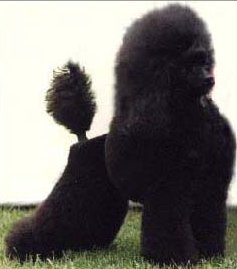 1999 års vinstrikaste svenskfödda toypudel!( SPK listan)/
Hedda was the most winning swedishborn toypoodle1999!(SPK-list in Sweden.)


Foto: Hexen House
Hedda är vår stamtik och hon var en fantastisk mamma som tog fint hand om sina valpar. Hon var en väldigt fertil toypudel som fick 4 valpar i sin första kull, 7! i sin andra och 6 i sin tredje och sista kull.
Hedda är mor till , CHAMPION, CERT och BIR vinnare./
Hedda is our foundation bitch. She was a very good mother and she took good care of her puppies.
Hedda was a very fertile toypoodle. She had 4 puppies in her first litter, 7! in her second and 6 in her third and last litter.
Hedda is dam to Champion, CAC and Best of breed winners.

Foto: Hexen House
Meriter :
Svensk utställningschampion,
3 certifikat , 3 Bäst i rasen ,2 Bäst i motsatt kön och 2 Cacib.
Hon har vackra rörelser, ett välmejslat sött huvud, bra päls med fin svärta, fina vinklar och en perfekt svans. /
Qualifications :
Swedish champion,
3 CAC), 3 BOB ,2 BOS och 2 Cacib (international CAC).
Hedda has beautiful movements, a well chiselled head, good coat with fine blackness, nice angulation and a perfect tail.