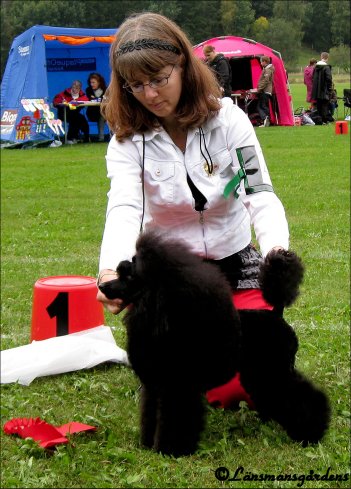 Rosa´s eyes and knees are tested clear
PRA- prcd, normal/ clear by parents
"The most beautiful"

Little sweetie "Rosa' s" birth weight was 154 gram and our beautiful dwarf poodle Melody is her mother.
Her nicknames are: "Rosis", "Pupp" & "Booba"!

Rosa is very lively and she loves to play with her little "sister" Stella. Rosa is an easy learner and she likes agility. Rosa flies over obstacles and through long tunnels without hesitation. Rosa doesn' t need a lead, she is alert and obedient. Her tail is always waving and she gives the sweetest kisses. She has personality plus and when she' s doing mischief the glimpse is in her eye. Rosis is simply wonderful and you are feeling happy in her company.
Rosa has a short back and lots of body. Good neck. Well angulated rear and small tight feet. Nice tail. She has a wonderful head and expression. Tons of jet black hair.
It will be interesting to follow the future of our little rosebud.